Welcome Fort A.P. Hill iSportsman
Areas available to hunting are finalized by 4pm the day before. Please check after 4pm to get the following day's open areas.
We developed a NEW iSportsman Startup Guide to help you through the registration process.
To access HUNTING PERMITS all hunters have to complete the "New Hunter Orientation" video located under the "My Safety Briefs" tab in the top blue menu bar of your iSportsman Account. This is a one time requirement but will be available to review later.
All hunters wishing to hunt the CA areas must complete the "CA Safety Brief" video before CA permits will be available under "Acquire Permits". This is an Annual requirement.
Do not call the Range Control Fire Desk with questions concerning the iSportsman service.
Do not arrive at the FAPH entrance prior to 0430. No parking or waiting is allowed on FAPH property.
---
Reservation change: To reserve a hunting spot for Monday, reservations are to be made Sunday evening at 7:00pm.
Reservations are only place holders for the area for the next day. You MUST STILL CHECK IN to the area the morning of your hunt to fill that spot. Having a reservation does NOT automatically check you out to the area you have reserved.
Visitor Control Center (VCC) Hours - M-F 0700 - 1600, Sat. Closed, Sun. Closed
Step 1: If you created an iSportman account previously do not create register a new account. Use the same account as last season. If you do not already have an iSportsman account then register in iSportsman by clicking on the Register tab in the blue bar above, complete that form and submit.

Step 2: EVERYONE MUST complete a new background check through the Visitor Control Center annually.

Print the background form, fill it out, sign it and drop by the VCC during normal business hours to complete this process. You may email the completed form to the VCC usarmy.aphill.imcom-atlantic.mbx.installation-access@mail.mil

Background check and weapons registration forms Hunting & Trapping or Fishing & Firewood

Weapon permits expire one year from date of issue. Even if you submit your background check and weapon permit registration form via e-mail you must still go by the VCC to pick up a current weapons permit.

Step 3: Once background check is complete the VCC will activate your FAPH iSportsman account. Call the VCC at (804) 633-8585 to check on the status of your background check.

Step 4: Log into your account and acquire the necessary permits.
MWR Deer Cooler Policy click here
Please remember, it is your responsibility to read and understand these regulations in their entirety. To receive clarification or interpretation of these regulations, users should contact the Fish and Wildlife Branch (804) 633-8984. Because of live-fire training both past and present, it is possible to encounter munitions while recreating at Fort A.P. Hill. It is your responsibility to be aware of your surroundings, stay within your assigned hunting area, and know the proper procedures in the event that you discover a munition. Know and follow the 3Rs of Explosive Safety listed below. All Hunters wishing to hunt in the Controlled Access Areas must meet additional safety requirements outlined in the Hunting,Trapping & Fishing Regulations (APH 200-10).
Click Here for more UXO safety information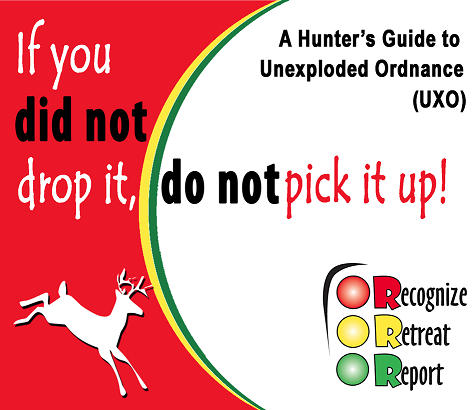 Important information
iSportsman is a web and phone based system. User transactions will be run through this system.

Checking into and out of areas can be performed by phone, on the FAPH iSportsman website, or at the kiosk located at the Visitor Control Center (VCC). click here for map

Permits will no longer be sold at the Outdoor Recreation Building.

The Game Check Station is now located across from the Fish and Wildlife Office in Anderson Camp. click here for map

No daily cards to pick up and drop off.

May change areas by phone or web page.
This is not an official U.S. Army or U.S. Army Garrison Fort A.P. Hill hosted website. The appearance of hyperlinks to external sites does not constitute endorsement by the Department of the U.S. Army of the linked Web site or the information, products or services contained therein. For other than authorized activities such as military exchanges and Morale, Welfare and Recreation sites, the Department of the U.S. Army does not exercise any editorial control over the information you may find at these locations. Such links are provided consistent with the stated purpose of this DoD Web site.