Prescribed Burn Operations Today
Prescribed burn operations will be conducted today in the CA complex. Please use caution when driving near these areas. Questions should be directed to the Fish and Wildlife Branch at (804) 633-8984
Turkey Scouting
Scouting is now available from 29-31 March. Scouting is CLOSED on Youth and Apprentice Day, 1 April.
Fortune Road now OPEN
Fortune Road is now OPEN to all recreational traffic effective immediately. Travel at your own risk and please be mindful of speed and traffic. This is the preferred travel route as to reduce traffic through Wilcox Camp.
General Updates
Weekly Deer Harvest Update (01-11-2023):

Click Here
2022 Spring Gobbler H
arvest Summary: Click Here
Outdoor Recreation has Ice and Refreshments available:

Click Here
Note: Centerfire rifles are not permitted for use on FAPH (See page 18 section 9a. APH Regulation 200-10)
Biking permits are no longer required through the iSportsman webpage. Please contact MWR at (804) 633-8244 with any questions in regards to biking on Fort A.P. Hill.
Firewood
FIREWOOD PERMITS NOW AVAILABLE!
Firewood permits are now available for sale at the Forestry Office.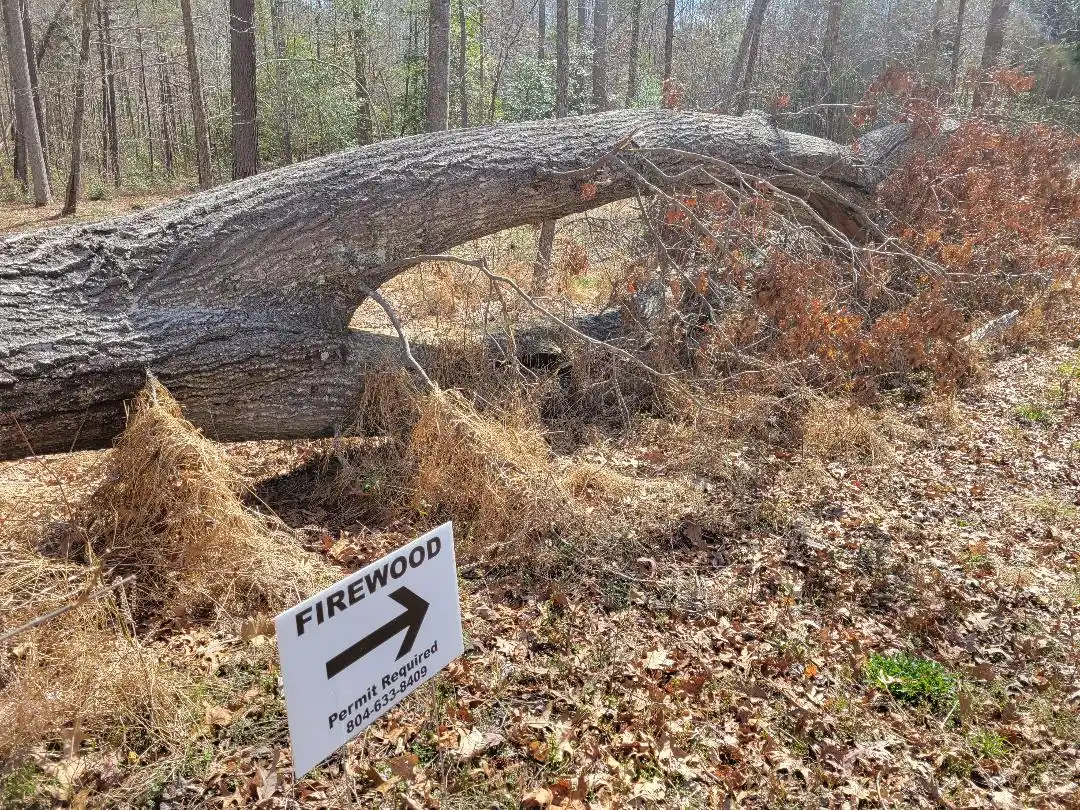 Instuctions for purchase of permits are included in section 3 of the
updated Firewood Regulation

.


The updated Firewood Map

is also available.

Please call the Forestry Office (804-633-8409) with any questions.
Driving During Wet Conditions
Please use caution when driving on Fort A.P. Hill during wet conditions. When parking off of a recreation road please assess the road shoulder before pulling into a wet spot that could result in leaving ruts or possibly becoming stuck. If damage is caused to the road shoulder please contact the Fish & Wildlife Branch so that repairs can be made.
Please use the iSportsman Startup Guide to help you through the registration process.
Step 1: If you created an iSportman account previously do not create register a new account. Use the same account as last season. If you do not already have an iSportsman account then register in iSportsman by clicking on the Register tab in the blue bar above, complete that form and submit.

Step 2: EVERYONE MUST complete a new background check through the Visitor Control Center annually.

Background check and weapons registration forms Hunting & Trapping or Fishing & Firewood

Weapon permits expire one year from date of issue. Even if you submit your background check and weapon permit registration form via e-mail you must still go by the VCC to pick up a current weapons permit.

Print the background form, fill it out, sign it and drop by the VCC during normal business hours to complete this process. You may email the completed form to the VCC usarmy.aphill.imcom-atlantic.mbx.installation-access@army.mil

Step 3: Once background check is complete the VCC will activate your FAPH iSportsman account. Call the VCC at (804) 633-8585 to check on the status of your background check.

Step 4: Log into your account and acquire the necessary permits.
Visitor Control Center (VCC) Hours: Monday-Friday 0700-1600, Closed Sat and Sun. Please call ahead as hours are subject to change for holidays.
Please remember, it is your responsibility to read and understand these regulations in their entirety. To receive clarification or interpretation of these regulations, users should contact the Fish and Wildlife Branch (804) 633-8984. Because of live-fire training both past and present, it is possible to encounter munitions while recreating at Fort A.P. Hill. It is your responsibility to be aware of your surroundings, stay within your assigned hunting area, and know the proper procedures in the event that you discover a munition. Know and follow the 3Rs of Explosive Safety listed below. All Hunters wishing to hunt in the Controlled Access Areas must meet additional safety requirements outlined in the Hunting,Trapping & Fishing Regulations (APH 200-10).

Please use Fort A.P. Hill UXO Map to report where you found a UXO.
Click Here for more UXO safety information.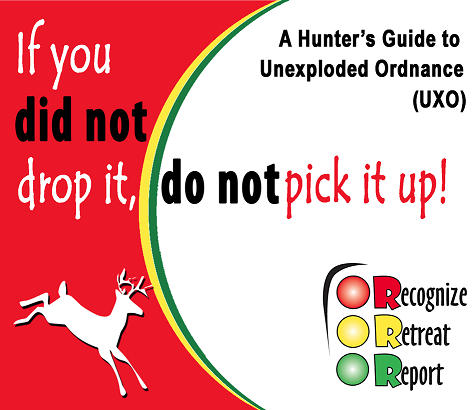 Important information
iSportsman is a web and phone based system. User transactions will be run through this system.

Checking into and out of areas can be performed by phone or on the FAPH iSportsman website.

Permits will no longer be sold at the Outdoor Recreation Building.

The Game Check Station is now located across from the Fish and Wildlife Office in Anderson Camp. click here for map

No daily cards to pick up and drop off.

May change areas by phone or web page.
This is not an official U.S. Army or U.S. Army Garrison Fort A.P. Hill hosted website. The appearance of hyperlinks to external sites does not constitute endorsement by the Department of the U.S. Army of the linked Web site or the information, products or services contained therein. For other than authorized activities such as military exchanges and Morale, Welfare and Recreation sites, the Department of the U.S. Army does not exercise any editorial control over the information you may find at these locations. Such links are provided consistent with the stated purpose of this DoD Web site. Visit AP Hill main website at https://home.army.mil/aphill/index.php